Shocking images of a first responder backing Trump saying overdose patients should be left to "die" have gone viral online.
Local firefighter in Glastonbury, Connecticut, identified in a Twitter thread and by The Journal Inquirer like James Stanley, was filmed on Sunday saying that NARCAN – the drug designed to reverse an opioid overdose – should be phased out and that "when people overdose you let them die".
Michael Oretade, president of the Connecticut Black Lives Matter outreach organization BLM860, said Newsweek that the group was planning to collect donations for a self-help food drive on Sunday when a group of conservative citizens arrived to protest their work.
"We are gathering at Glastonbury with Powerup CT and Black at Glastonbury almost faithfully and from what I understand their rally was a direct mismatch to our weekly rally," he explained. "So they were basically protesting our food drive."
Linda Ivelisse Correa-Ojeda, member of BLM860, explained to Newsweek that during the food drive counter-demonstration, Stanley approached making inflammatory comments that ultimately turned into a conversation about the Connecticut drug crisis.
In a moment of frustration, she yells, "You have your own epidemic and you are not solving it!"
Stanley then says, "I think you get rid of f ***** g NARCAN, and when people overdose you let them die."
"Wow, that would affect the suburban community and not the hood!" Correa-Ojeda screams as Stanley backs up.
Viewers on Facebook and Twitter were dismayed that an emergency first responder made such a statement.
"As a recovered addict who has managed a sober life for women and worked in rehab for years, it's heartbreaking," one woman tweeted. "Imagine having people's lives in your hands and this is your solution. I literally don't know how to deal with this."
"What kind of ***** is protesting a food drive?" a viewer commented on Facebook.
Correa-Ojeda also said Newsweek that Stanely's remarks even angered his fellow counter-protesters after the camera was turned off.
"The man in the white shirt next to him ended up joining us," she said. "He originally came to call us racists, and when the firefighter said that … although he was conservative, he lived in a sober house, he himself was saved from an overdose. It was nice to chat with him. "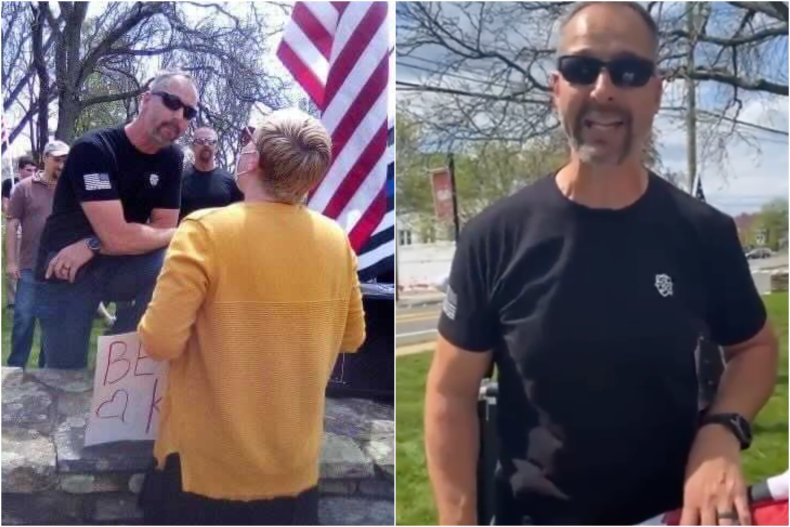 Members of the BLM860 Facebook group were able to determine that Stanley was working as a firefighter with the Glastonbury Fire Department. The official Facebook page then released an official statement on the matter on Monday.
"The Department is aware of a personal comment made yesterday by a member of our organization regarding the use of naloxone. [NARCAN]"They wrote." The comment from the individual is heartbreaking, and by no means a reflection of those dedicated to protecting the residents and visitors of Glastonbury.
"This is a personnel matter, and there will be no further comment," they concluded.
On Tuesday morning, Stanley added his own personal apology in the comments section of the fire station. "I would like to apologize for my comment regarding Narcan on May 2, it was callous and inappropriate," he wrote.
"I too have lost the addiction to the substance and I understand how hurtful my words were. This comment does not in any way represent my character or my conduct as a 20 year veteran of the fire service.
He also asked forgiveness for his outburst: "I accept responsibility for my words and ask the people of the community of Glastonbury not to judge me for the negative words spoken in an instant, but for the positive actions and contributions of a lifetime of public service. "
For Correa-Ojeda, this was not enough. "My cousin died of a heroin overdose. That's not cool! How can I trust a firefighter who protests a food drive and says he wants to let people die?!?" she answered.
She also said Newsweek that this was not the first time Stanley has harassed the BLM860 group.
"I wasn't shocked by his statement, I was just shocked that he said it on camera," she said. "His statement is consistent with other statements he has made about race or women or vaccines or child abuse."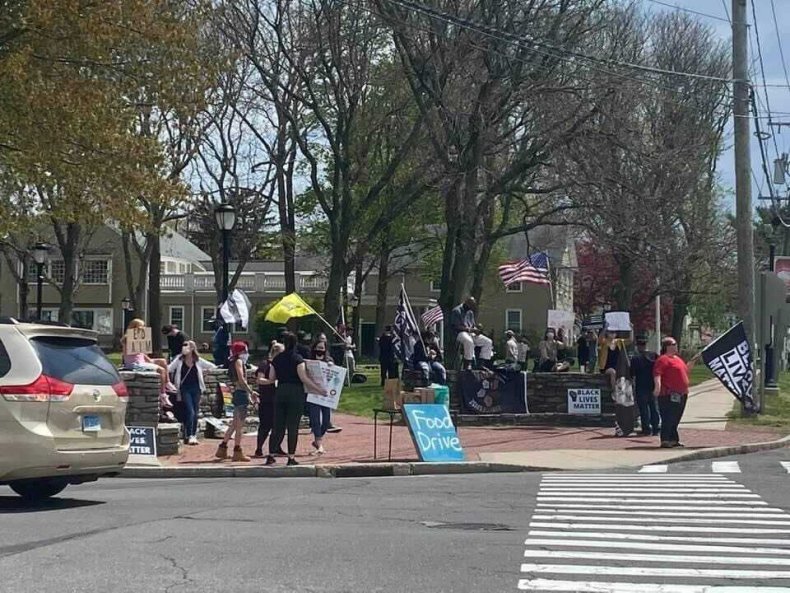 According to The Journal InquirerStanley claimed his group Patriots for America had not rallied in a counter-protest against the work BLM860 was planning for the day.
"They changed their schedule to interfere with ours," he told the outlet. "We were there to support law enforcement, legal immigration and against compulsory vaccination."
He added that their event was scheduled for 12 p.m. at Glastonbury Fountains while the BLM860 food drive was scheduled from 2 p.m. to 4 p.m. by their public circular announcement on Facebook.
Alternatively, Correa-Ojeda said Newsweek that this was the latest in a series of actions against BLM860 organized by Stanley.
"James Stanley has organized counter-protests against us since last year. It has been several times," she said. "This isn't the first time he's made a controversial or rude statement. They're usually more accused of racism, but this one just happens to be about NARCAN."
"His behavior and his statements matched his behavior over the summer. The only thing the man is going to change, other than maybe backing off for a few months, is to stop repeating stupid things in front of the camera," she added.
This is the latest example of a conservative individual who has gone viral for making callous remarks in public spaces. In April, a Trump supporter in Canada sparked a police investigation after allegedly branding a 9-year-old wearing a hijab a "piece of shit terrorist."