Director of the National Institute of Allergy and Infectious Diseases, Dr Anthony Fauci on Tuesday explained his lack of conviction on either side of whether or not President Joe Biden should temporarily waive patent protection on COVID-19 vaccines, and has been met with resistance.
Speaking on the Mehdi Hasan Show On Tuesday, Fauci told MSNBC host Mehdi Hasan he was "really quite agnostic" about whether or not the president should ignore pressure from the big pharmaceutical companies and release currently patented information on how to producing the vaccines – an act that Hasan said "would help develop particular countries."
Hasan rebuffed Fauci's choice of words, saying, "How can you be agnostic, you are the chief medical adviser? If the president says," Dr Fauci, what should I do? What's your advice? "What are you going to tell him?"
In his more detailed response, Fauci explained that his "agnosticism" does not refer to the question of whether millions of people in developing countries and elsewhere should have access to COVID-19 vaccines or not, and at what cost. . Instead, its lack of clear preference refers to exactly how vaccines get there.
"I tell him [the president] get people vaccinated as quickly as possible, "he said." If that means getting billions of doses from businesses and getting them to people in lower middle-income countries at a very, very low cost. low that they can afford, do it and do it now because if you want to start transferring technology, you're going to provide it to them in a year and a half, "he continued. My only concern is that I care about the people who get vaccinated. Either way, go ahead and do it now. "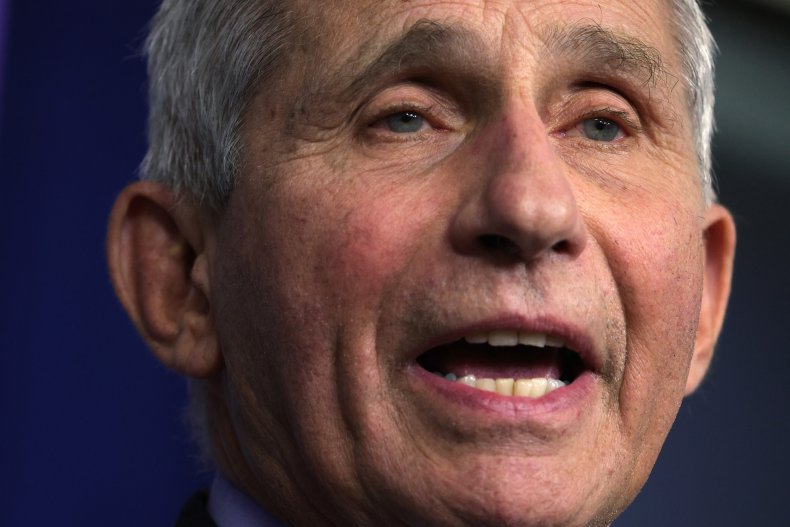 While Fauci suggests that vaccines be supplied to other countries at low cost, others argue that relinquishing patents on the vaccine is the best way to ensure that as many people as possible survive the global pandemic.
A proposal to suspend patent rights for treatments related to COVID-19 was presented to the WTO by India and South Africa in October and was "supported by nearly 60 countries, more than 100 members of the United States Congress and several former world leaders, "according to Financial Times.
Suhaib Siddiqi, the former director of chemistry at Moderna, for example, told The Associated Press that "with the plan and technical guidance, a modern plant should be able to start vaccine production in three to four months at more". She continued to express her belief that "in my opinion the vaccine belongs to the public", and that "any company that has experience in synthesizing molecules should be able to do so".
Newsweek contacted Dr Anthony Fauci's office at the National Institute of Allergy and Infectious Diseases for comment. This story will be updated with any response.