Police say a 37-year-old woman was involved in a series of events that led to a teenager in a fatal car crash in Nashville, Tennessee earlier this month.
Officers from the Nashville Metropolitan Police Department (MNPD) said they arrested a 13-year-old in connection with the crash, which occurred around 9 a.m. local time on March 5. The victim has been identified as David Cheatham, 71. Police said he was leaving an O'Reilly Auto Parts parking lot along the 4600 block of Nolensville Pike south of downtown Nashville when his Dodge Challenger was struck by another vehicle.
Cheatham was pronounced dead at the crash site, officials said.
Police said a 13-year-old, who has not been publicly identified, was driving a Dodge Dart in the area before the crash. Police said the teen was walking away from another hit-and-run when he turned on a red light, deflected the Dodge Dart and crashed into Cheatham's vehicle. The teenager suffered non-life threatening injuries and was taken to Vanderbilt Children's Hospital for treatment, police said.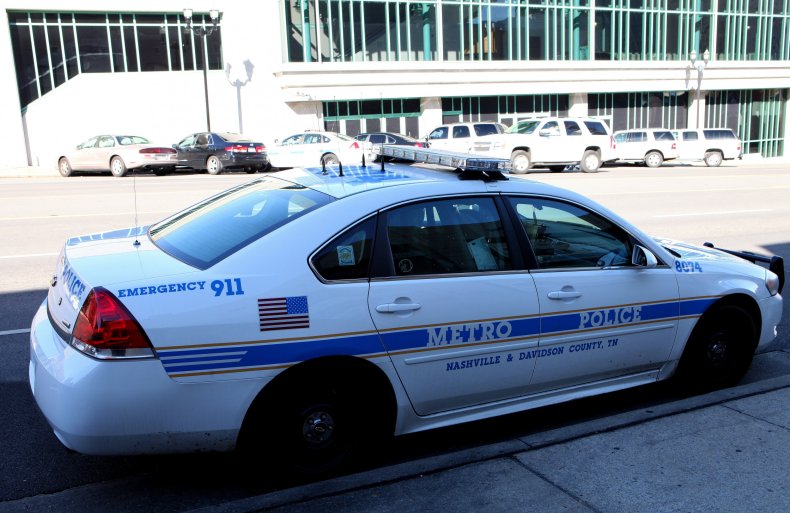 At the time of the crash, police said they were investigating how the teenager gained access to the Dodge Dart. Two days after the incident, the MNPD said the teenager was released from the children's hospital and charged in juvenile court. The teenager faces charges of reckless vehicle homicide and driving without proof of insurance and without a license.
On March 25, police said another individual had been charged with reckless driving homicide in connection with Cheatham's death. The second person has been identified as Katrina Russell, 37, who police accused of selling the Dodge Dart to the teenager before the crash.
Russell was also charged with "contributing to juvenile delinquency," police said in a press release.
"The charges stem from Russell's admission that there was an exchange of money between her and the teenager for the keys to her car, the Dodge Dart involved in the fatal crash," MNPD said in the press release. The teenager accused of causing the crash told police he paid $ 80 for the vehicle, according to the MNPD, who also said Russell knew his age.
MNPD officials said they found Russell, who officials said did not have a permanent residence, in a house undergoing renovations. At the time, officers were responding to reports that people were residing in the building illegally, the MNPD said.
Russell is behind bars, on bail set at $ 6,000, authorities have said.
Newsweek has contacted the MNPD for comment and will update this story with any response.