Seven cult members were arrested after police discovered the cult leader's mummified corpse wrapped in a sleeping bag and covered in Christmas lights, NBC Reports 2.
The body was that of Amy Carlson, says NBC 2, who was known to her followers as "Mother God," the leader of a religious group known as "Love Has Won." She was reportedly found dead on April 28 at a home in Moffat, Colorado.
According to OzarkFirst, the body was found in a back bedroom and wrapped in a sleeping bag and lying on a bed. The woman's eyes were reportedly covered in "glitter-type makeup" and the body was covered in Christmas lights. The warrant, the publication said, noted that the body, "appeared to have been housed in some type of shrine."
When and how Carlson died has yet to be released.
Two children were also present at the house during the arrests, says NBC 2. Both the 13-year-old girl and the 2-year-old boy were turned over to social services immediately after the arrests; However, OzarkFirst reports that the boy has since been reunited with his father, Miguel Lamboy.
According to the arrest warrants obtained by OzarkFirst, Lamboy lived in the house where the body was found. The warrants state that he opened his home to the seven members on April 27 because they needed a place to stay. At one point, Lamboy left the house and returned to find the mummified body. He tried to leave his home with his son; however, Lamboy states that the members would not allow him to leave with his child.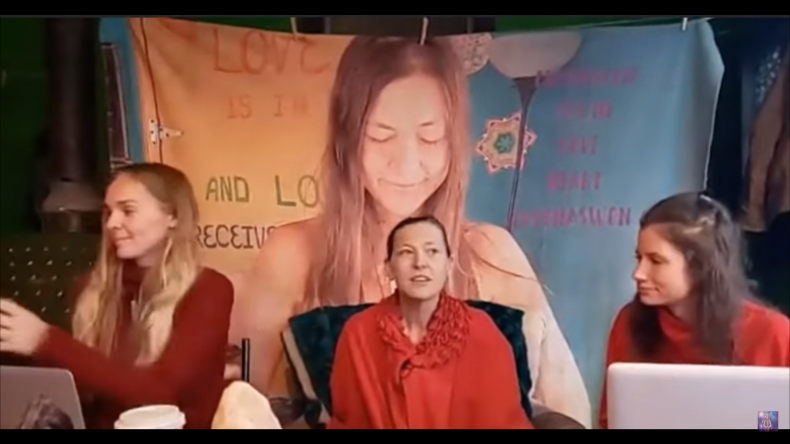 Lamboy then decided to flee the house on his own and report the corpse to the Salida Police Department. The report was then delivered to the sheriff's office.
The seven followers face charges of child abuse and abuse of a corpse.
The Denver Post adds that another existing Love Has Won member, Bobby, posted on Facebook on Saturday to share that "Mother God was 'up'."
Bobby also told his fans, "Mum told us this was all coming, She got the team ready and All Who Feels Her for these MOMents frequently sharing stories from 2008 when the Galactics took Mum to ships and shared with Her it was a mission of death. "
"We thank everyone for their total submission to the divine plan," Bobby continued according to The Denver Post. "Mom will give you the next step in Your Heart in every present moment that you are there, MOM ENTers. The team respectfully follows the process required by law enforcement and we are grateful for their diligence in protecting humanity. "